We are tremendously excited to announce that we are embarking on a new effort to share our staff members' knowledge and training in the Italian educational philosophy, Reggio Emilia, with our peer childcare centers!
Imagining the Possibilities
A Staff Development Series Offered by: The King's Daughters Child Development Center
Approved by DHS
September 16th, 8:30-12:00 Cost: $50.00 | Transforming the Traditional Early Childhood Learning Environment ~The Outdoor Learning Lab ~Classroom Spaces ~Community Spaces
January 20th, 8:30-2:00 Cost: $75.00 * | Exploring the Reggio Inspired Approach ~The History of Reggio Emilia ~Processes within the Reggio Approach ~Putting Processes into Practice
June 9th, 8:30-2:00, Cost: $75.00 * | The Journey of Documentation ~What is Documentation ~The Benefits of Documentation ~Experimenting with Documentation
**All three sessions: $185.00 (must register and pay for all three at the same time)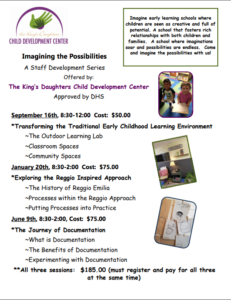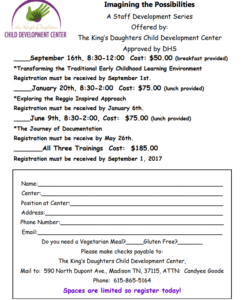 We hope that you are able to join us as we imagine early learning schools where children are seen as creative and full of potential. A school that fosters rich relationships with children and families. A school where imaginations soar and possibilities are endless. Come and imagine the possibilities with us!