What's better than making your own sticky, yummy, sweet popsicle? Our toddlers loved freezing some last week!
For this simple activity, our teachers helped children make popsicles, but actually, they did so much more. For example, the children had the opportunity to "establish and sustain positive relationships" with adults, interacting with their peers, and making friends" (Social/Emotional Objectives for Development and Learning – Birth through Third Grade, as described by TeachingStrategies GOLD).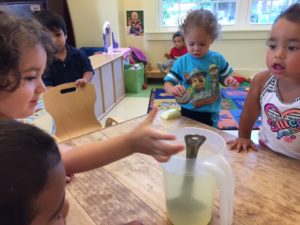 The children also got to 'participate cooperatively and constructively in group situations" (Social/Emotional).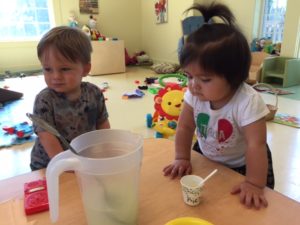 And practice gross motor skills and fine motor skills as they stirred and observed their concoction (Physical).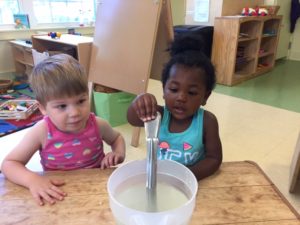 The toddlers got to "listen to and understand increasingly complex language" practicing comprehension and following directions (Language).
And they saw math in action as ingredients were measured, cups and sticks were counted, cups were filled halfway (Math).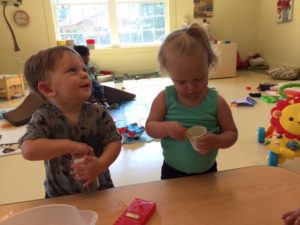 They participated in the scientific process as teachers posed questions like, What do you think will happen when we put this in the freezer?  And they build their vocabulary and knowledge of physical properties and materials with teacher-led inquiries like, What does it feel like before it goes in the freezer? What does it feel like after it leaves the freezer? (Science)
Building vocabulary is an enormous part of our early childhood program as several studies have shown that there is typically a six month gap in vocabulary building by the age of two between children who live in low and high income households. As our teachers narrated their actions for the children, making popsicles provided a joyful, positive experience with words like "ingredients, measure, sticky, wet, stirring, pitcher, spoon, cold, sweet, dissolve, pour, freezing, dripping, hard, stuck, stiff, taste, tongue, melting" and  helped our children demonstrate progress in listening to, understanding, and speaking English(English Language Acquisition).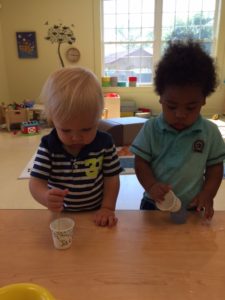 This positive learning experience (and the treat of tasting a cold, sweet at the end!) invited the children to build a "positive approach to learning" as the teachers observed each child's mastery of engaging, persisting, and showing curiosity. Meanwhile, the class created a shared memory to recall later and make connections (Cognitive). For example, anytime the class reads a book or sings a song that references a popsicle or a hot summer day, our teachers will be able to prompt the children to make the connections between the story and themselves… leading to learning, deepening comprehension, and setting them up for success in school and beyond!